Emerging Artist Award 2019
18 June, 2019

-

29 June, 2019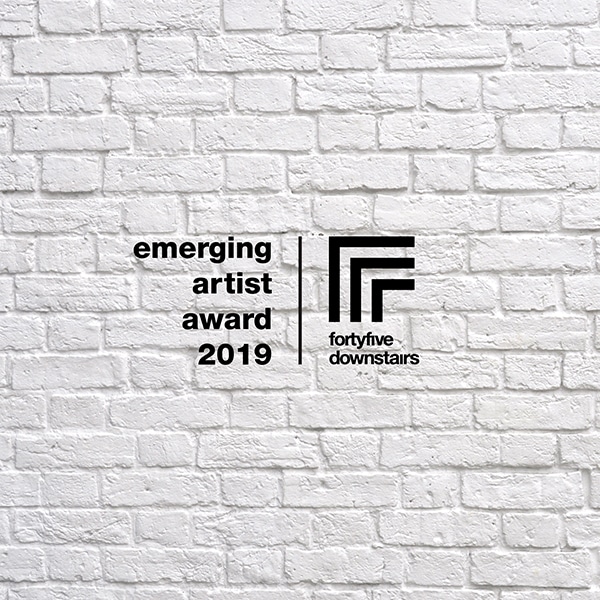 fortyfivedownstairs presents
Emerging Artist Award 2019
18 – 29 June 2019

hours:
Tuesday – Friday 11am to 5pm,
Saturday 11am to 3pm
admission: Free
fortyfivedownstairs is excited to present the fifth annual Emerging Artist Award in 2019.
fortyfivedownstairs is excited to present the fifth annual Emerging Artist Award in 2019.
Twenty-nine emerging Australian artists have been selected for a two-week exhibition from 18 – 29 June 2019.  A $3000 pool of prize money will be awarded by special guest judge Annika Kristensen, Senior Curator at ACCA, to the two submissions that best align with the award criteria.
The Award is a proven catalyst for ongoing recognition and professional development and allows audiences the privilege of accessing early-career works by exciting emerging artists.
At fortyfivedownstairs we showcase independent, experimental and thought-provoking visual art. The Emerging Artist Award 2019 is an opportunity to examine developing trends in the contemporary art scene while allowing emerging artists to gain exposure in a professional setting and kick-start their careers.
Exhibition Dates: Tuesday 18 June – Saturday 29 June 2019
The Emerging Artist Award 2019 is supported by the Terry Swann Peter Griffin Foundation, Future Leaders and the Hart Line Fund.
Emerging Artist Award 2019 FINALISTS
Emilie Walsh, Chloe Dann, Ella Byrne, Sarah Walker, Hugh Kerr, Patrick Riley, Logan Mucha, Karri McPherson, India d'Scarlett, Julee Latimer, Gerard Russo, Jess Coldrey, Stephanie Garner, James Hale, Aylsa McHugh, Nathan Singe, Max Lawrence White, Kareem Soliman, Nancy Lehet, Phoebe Kim, Marisa Mu, Eunjoo Jang, Stacey Korfiatis, Katherine Marmaras, Georgia Laurie, Elloise Alexander, JB Knibbs, Lily Holmes, Timothy James Greaves
Congratulations to the Emerging Artist Award 2019 winners, Marisa Mu and Logan Mucha!
Marisa Mu, Something Special, watercolour painting on cold press paper, 87 x 125 cm (Photo: Karri McPherson)
Something Special by Marisa Mu is about celebrating naked candidness and cultural diversity through the power of women.
We are so often consumed within our own stories and needs and wants that we forget the importance of experiencing joy through the simple things in life. Those little every-day moments that make us realise that the little things in life are not so little after all. Examples of these moments include dancing freely in our underwear to swinging our bra off after a long day. Something Special is about amplifying the importance of these little moments of candidness and freedom in a non-sexualised way as to appreciate women for what they are – people, not objects.
The scale of each petite character is to bring emphasis to the energy that something so small can possess – and when observed as a collective of tiny dancers, we experience the movement and energy in which we are all witnesses to. This current movement of human rights with abolishing racism within society and giving a voice to women – Something Special is a representation of equality, self-love and the importance of valuing what brings us joy and what makes us human.
Each character is individual and whether it is your true self, your alter ego or elements of yourself that you catch in a character, the end purpose is to spark happiness and stimulate positive change within someone to embrace nakedness and womanhood in all its glory.
Something Special is exactly that – something special.
Logan Mucha, We're All in this Together, single-channel HD video with sound, dimensions variable (Photo: Karri McPherson)
Young Australians audition to retell stories from Melbourne's queer community.
Scripted verbatim from interviews and retold by young queer actors, this work reimagines historical accounts of public protest, police brutality and isolation.
Logan recorded, transcribed and edited extensive interviews into monologues for the work's script from Sally Conning, Jude Munro, Lizzie Craig, Shaun Miller and an anonymous Ugandan asylum seeker.
In the auditions, Logan invited the actors to bring their own experiences and understanding of Melbourne's queer history to the roles. He filmed the auditions and the casted actors performing the monologues across Melbourne. He edited the performances with footage of the auditions and the filmmaking process to re-contextualise each historical account with a contemporary lens.
Logan works in the medium of hybrid-documentary to tell stories that would otherwise go unheard. By blending performative and participatory film techniques, Logan aims to find new meaning in historical and contemporary events. His work challenges our interpretation of fact and fiction and asks viewers to question authenticity in film production.
Logan aims to encourage an intergenerational exploration of Melbourne's queer identity, strengthen respect for queer struggles of the past and shine new light on unknown queer stories.
Emerging Artist Award 2019 Guest Judge
Annika Kristensen is Senior Curator at the Australian Centre for Contemporary Art in Melbourne where she has curated recent exhibitions including The theatre is lying (with Max Delany) 2018–19; Eva Rothschild: Kosmos (with Max Delany) 2018; Unfinished Business (with Paola Balla, Max Delany, Julie Ewington, Vikki McInnes and Elvis Richardson) 2017–18; Greater Together 2017; Claire Lambe: Mother Holding Something Horrific (with Max Delany) 2017; Gerard Byrne: A late evening in the future 2016; NEW16 2016; Painting. More Painting (with Max Delany and Hannah Mathews) 2016; and The Biography of Things (with Juliana Engberg and Hannah Mathews) 2015. Previously the Exhibition and Project Coordinator for the 19th Biennale of Sydney (2014) and the inaugural Nick Waterlow OAM Curatorial Fellow for the 18th Biennale of Sydney (2012), Annika has also held positions at Frieze Art Fair, Artangel, Film and Video Umbrella, London; and The West Australian Newspaper, Perth. Annika was a participant in the 2013 Gertrude Contemporary and Art & Australia Emerging Writers Program and the recipient of an Asialink Arts Residency in 2014.