The Last Days of Summer
2 July, 2019

-

27 July, 2019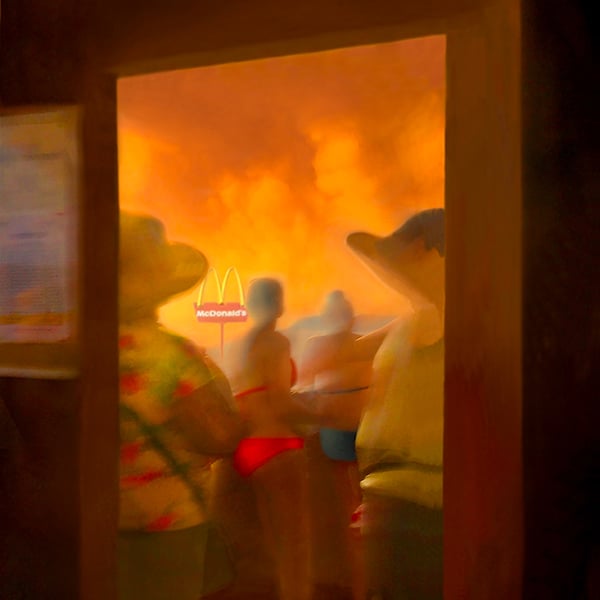 2 – 27 July 2019

hours:
Tuesday – Friday 11am to 5pm,
Saturday 11am to 3pm
admission: Free
…a poetic insight into ways of seeing and experience.
Peter Hyatt's latest series, The Last Days of Summer combines sublime photographic imagery and digital art to create a richly invented tableaux. Familiar yet dreamlike, his work captures the collision of people, places and nature, frequently as disparate forces. Light and shadow are critical in the texture of antiquity and nature challenged by indifference, commercialism and tourism. Hyatt's limited-edition prints offer a poetic insight into ways of seeing and experience.
An overriding ambition throughout my commercial career as a photographer, writer and documentary maker has been to bring out the art in even the most mundane or unlikely situation. Reading a room, city or wider landscape, involves an observer's prism to bring into focus selective elements and nuances that can create a compelling narrative. Personality, behaviour, ironies of circumstance and chance encounters all contribute to inform these artistic endeavours – most notably my most recent digital art work.
In the process of writing and photographing eight books on architecture and design I have never omitted the importance of people as players and protagonists. This is just one of the reasons why The Last Days of Summer is so important to me – It's a holistic endeavour of photography, digital art, supporting text and soundscape to create an immersive, absorbing experience for visitors. 
Journalism, architectural photography, documentaries all contribute to a watchful eye developed over more than four working decades. These experiences all cross-reference each other in the process of making art.
– Peter Hyatt
Vimeo link to Last Days of Summer: https://vimeo.com/330921375
Peter Hyatt is a fine-art and commercial photographer, writer and documentary-maker. His practice has evolved with his own strong artistic vision. Hyatt's experience includes almost four decades documenting and interpreting Australian architecture. More recently he has created several photographic series informed by this work. These include Incandescent (2016) and Tattooed City (2017/18).
His photography and digital art features extensively in eight internationally distributed books on architecture and design as well as on-line and printed design media.
He has also directed and produced more than two dozen short documentaries on architecture. These include the work of luminaries such as Pritzker prize winning Australian architect, Glenn Murcutt, Sir Norman Foster, Sir Richard Rogers, Jean Nouvel and Christoph Inghenhoven.
Artist Talk: Peter Hyatt
Saturday 13 July
11.30am
FREE EVENT, ALL WELCOME
Join artist Peter Hyatt as he discusses his exhibition The Last Days of Summer, his artistic practice and the evolution of digital art.