SMALL!
6 December, 2022

-

17 December, 2022

Free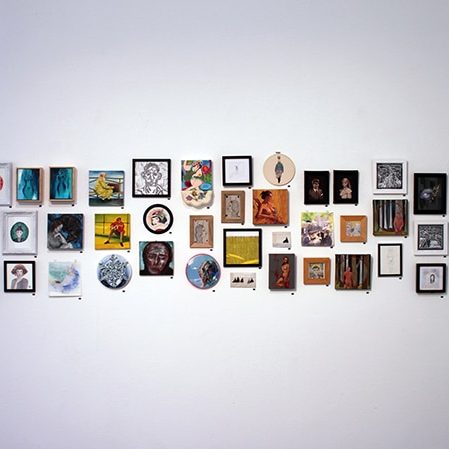 fortyfivedownstairs presents
6th December- 17th December 2022

hours:
Tuesday – Friday: 12pm – 6pm
Saturdays: 12pm – 4pm
Tuesday and Friday evenings: 6pm – 8pm
entry fee: $20 for one artwork, $30 for two artworks
fortyfivedownstairs is excited to once again be hosting our community-sourced, small works exhibition SMALL!
SMALL! is an opportunity to see the walls of fortyfivedownstairs covered with an endless variety of styles and media including painting, drawing and sketches, prints, textiles, and small sculptural works. As well, submissions of linocuts, relief prints, sculpture using recycled materials and embroidery show that size is no barrier to experimentation.
All the submitted artworks fit our two simple criteria – they're no larger than 20 x 20cm and can hang on the wall.
SMALL! is a truly democratic exhibition, accessible for all artists regardless of experience or status. The exhibition will include works from community arts groups, fine arts students and mid-career artists.
All the artworks will be priced at $150 no matter the artist or the medium, making SMALL! a chance for audiences to access affordable art. And we want visitors to choose their favourites based solely on what they love, so artist names won't be listed alongside the pieces.
We can't wait to show you what can be done in a small space!
Exhibition opens Tuesday 6th December, 6pm – 8pm. Drinks available for purchase.
fortyfivedownstairs is inviting submissions from anyone and everyone for our second annual community-sourced small works show, SMALL!
Submissions close 26 November 2022.
The exhibition will run from 6th December- 17th December 2022.
All submitted artworks will be accepted (terms and conditions apply!)
Please read the following instructions carefully before you begin your application:
Enter your personal details in the entry form below

Include bank account details for any commission from sold artworks 

Select whether you will be submitting 1 or 2 artworks. Entry fees are $20 for one artwork, and $30 for two artworks

Enter the details of each artwork, including selecting the category that best describes your piece

Upload one image of each artwork

Select whether you would like your artwork returned by post if unsold. The fee for return postage is $20


Read through the 'T&Cs' carefully for further instructions

Click 'Pay and Submit SMALL! Entry'

Enter your payment details in the newly opened page

Deliver your labeled artwork/s to the gallery on or before December 2nd.

Congratulations, you're part of SMALL! 2022
Please email [email protected] if you have any queries regarding the application process.
*NOTE: We do not recommend posting artworks.
Q: My artwork is a few cms over 20 x 20 cm, is that ok?
A: Unfortunately, no. The dimension limitations on artworks are the only parameters, and to ensure it is fair for all artists works must be 20 x 20 x 20cm or smaller. If your framing is a few cms bigger than the artwork, that is OK (within reason).
Q: I can't get my work to the gallery within 5 days
A: As long as you let us know and make arrangements with the gallery, if you can ensure that the artwork arrives by Friday 2 December.
Q: I am having trouble submitting on the website
A: The website will redirect you to the SMALL! page. Check back into the submission, the information you previously put in will still be in there. You will see an error code 'There was a problem with your submission. Please review the fields below'.  The error will be highlighted in red, amend the error and resubmit and you will be directed to the payment page.