Melbourne Listening
28 August, 2018

-

8 September, 2018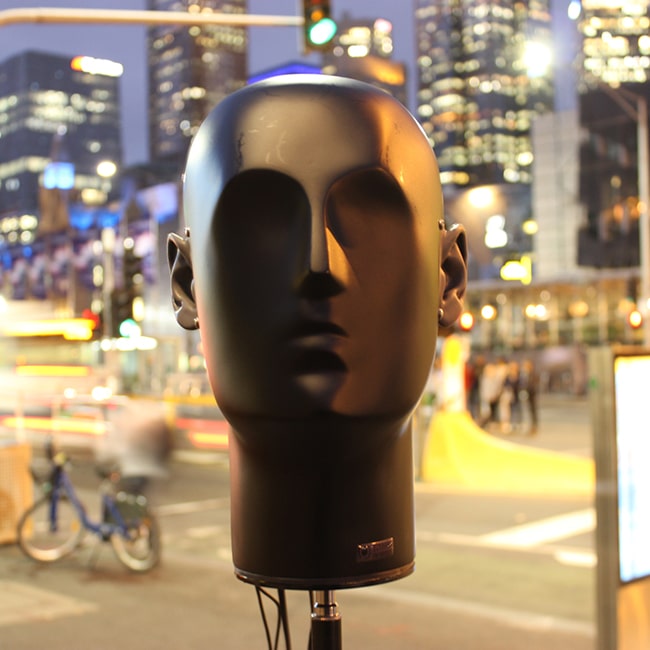 Susannah Williams & Warren Armstrong
28 August – 8 September 2018

hours:
Tuesday – Friday 11am to 5pm,
Saturday 12pm to 4pm
admission: Free
…from crowds cheering at the AFLW to people protesting in the city; from the industry of rooftop beehives to the steady laps of night swimmers at a public pool…
Melbourne Listening is an interactive installation composed of touch responsive drawings, tapestries and cast objects, that house binaurally recorded sounds of spaces in and around Melbourne, which audience members will hear when they touch the work.
The sounds follow an imagined "day in the life" of the City of Melbourne, and will consist of soundscapes collected from a variety of locations in the wider Melbourne metropolitan area, combined with the stories of community members who live, work or play in those locations, or for whom those locations hold special significance.
From the dawn chorus at the Western Treatment Plant to penguins returning for the night at St Kilda; from crowds cheering at the AFLW to people protesting in the city; from the industry of rooftop beehives to the steady laps of night swimmers at a public pool; from a poet reciting her work on the street to a muezzin delivering the call to prayer in a mosque.
For the artists, Susannah Williams and Warren Armstrong, the work is also something of an incomplete document of their first six months in a new city, listening to its spaces and inhabitants.
Accompanying the installation will be a free, publicly available phone app for iPhone and Android. This app will offer those who are unable to attend the show an alternative way of accessing the content.
Details for downloading these apps will be available on the following website prior to the opening:
http://www.melbournelistening.com/
This exhibition is supported by City of Melbourne Arts Grants Program.
Susannah Williams
Susannah Williams is a visual artist who specialises in experimental drawing using mediums as diverse as visual reality, conductive materials, strings, pins, paper collage, tape and weaving. Her works regularly use field recordings and touch technology to explore dimensions of space and sound in drawing. She is currently based in Melbourne working on a Masters at the VCA investigating the Visual Sound of Nature.
Since graduating from the National Art School in 2008, Susannah has contributed numerous installations and wall works for artist run initiatives, festivals and artist residencies across Australian and internationally. Susannah has worked in collaboration as Artist in Transit with Ro Murray, and with Warren Armstrong. She was a recipient of an ArtsStart Grant in 2010, from Australian Council for the Arts and awarded an artist in residency with the Banff Centre for Creativity, Canada in 2014.
Warren Armstrong
Warren Armstrong is a new media artist and app developer.  He has worked as the mobile app developer on Diego Bonetto's Wild Food Map, an online portal / community site for urban foragers; created the virtual reality app for Cigdem Aydemir's Plastic Histories in Bloemfontein, South Africa; was the curator of (Un)seen Sculptures, an exhibition of international 3D augmented reality art that was staged in Sydney, Melbourne, Port Macquarie & Cairns; and collaborated on the performance piece A Galaxy of Suns which has been presented at Dark MOFO, the 2017 Melbourne Festival, and Cementa 17.
Susannah Williams and Warren Armstrong have collaborated and stretched their practice across disciplines of new media, architecture, sculpture, installation and sound. For this work, they were awarded the Casula Powerhouse's Paramor Prize for Art and Innovation 2017, as well as an Arts and Culture Grant from Inner West Council, Sydney.