E lascia dir le genti
4 June, 2019

-

15 June, 2019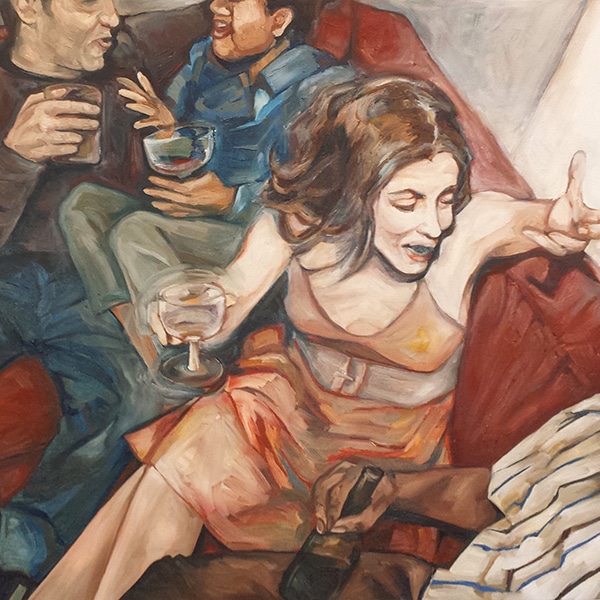 4 – 15 June 2019

hours:
Tuesday – Friday 11am to 5pm,
Saturday 11am to 3pm
admission: Free
…inhibitions are dropped, and subjects are exposed in their most raw and vulnerable state…
John Mezzini's series of oil paintings, E lascia dir le genti, captures fragments of social interaction.  The moment when inhibitions are dropped, and the subjects are exposed in their most raw and vulnerable state where we are confronted by the beauty of the immediate. Mezzini reminds the viewer of meaningful personal connections indelibly imprinted and active in the formulation of who we see ourselves to be.
An engineer by trade, Mezzini has recently returned to painting after studying at the North Adelaide School of Arts over twenty years ago. Mezzini has dabbled in the arts in the intervening years, notably as a musician. His interest in painting never really subsided, but neither did he fully commit himself to it. After encouragement from friends and a renewed enjoyment of the process, Mezzini began again.
Initially working within his previous area of experience, abstraction, Mezzini began to re-educate himself, discovering new interests in the impressionist period and modern Russian artists. This changed his focus, adapting the principles of the material to further the development of his own practice.
Mezzini believes the interpretation of his artwork is the responsibility of the viewer. His process is to encourage, not dictate. Closing in on the subjects in the compositions allows Mezzini to manipulate the refractive elements of light, with the intention of allowing the viewer to interpret the gestures and expressions of his central figures. Mezzini utilises found imagery, personal photos and drawings as starting points for his paintings, linking them to a coherent theme. Introducing elements of figurative and expressionist styles, with an academic grounding in abstraction, has given this series a raw and unscripted feel, creating new and unfamiliar visual treatments of the subject matter.
E lascia dir le genti is John Mezzini's first solo exhibition, and runs at fortyfivedownstairs from 4 – 15 June 2019.