Shop Talk
27 August, 2019

-

7 September, 2019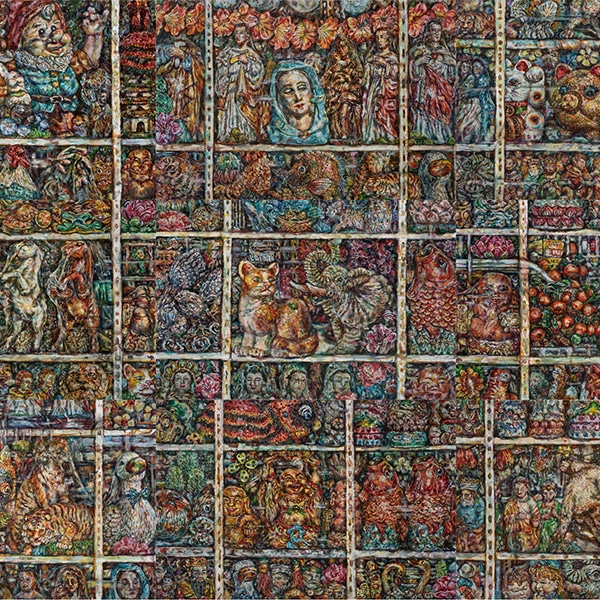 27 August – 7 September 2019

hours:
Tuesday – Friday 11am to 5pm,
Saturday 11am to 3pm
admission: Free
….ways to narrate suburban culture, ethnicity and the process of gentrification.
Shop Talk is a unique installation of drawings and painting focusing on process and repetition, resulting in a large-scale painting filling an entire gallery wall.
Alex Zubryn's practice articulates meaning about community life and suburbia, specifically through visually recording the streets in relation to still life/objects such as commercial products, decorative artifacts, edible objects and ephemera.
In recent times, recognisable Melbourne urban locales have been significantly reconstructed. Vibrant individual shops containing objects representing diverse cultures are under threat from gentrification. Shop Talk explores artefacts from just such a shop. Viewed from the street, the entire double fronted windows are filled with shelving structures with a random display of objects ranging from garden dwarfs to religious effigies. Decorative items stacked, wrapped and facing various directions are relic-like forms waiting for interpretation.
The artist's personal background and associations propelled him to rethink the focus for selected objects and to create different narratives about them. Looking through the dusty windowpane gives a sense of peering into old windows of an apartment block. Each decorative item has an individual temperament and appears as a character within its particular frame. The still life/objects and the expressive materiality of the mediums investigated sheds light on ways to narrate suburban culture, ethnicity and the process of gentrification.
After completing his degree at the Victorian College of the Arts in 1985, Alex Zubryn was awarded a Study Grant to Europe and then exhibited in 'A New Generation Exhibition', at the NGA, Canberra. In 1998 he completed his Masters of Fine Arts at the VCA after which he received an Australia Council studio in Rome. Alex is currently an Associate Lecturer at RMIT in the School of Design and is completing a PhD in Fine Art at RMIT's School of Art.
The following are some exhibitions activities in which he has participated: 1999 Deacons Graham and James Art Prize at the Ian Potter Museum Melbourne, the Paris Art Fair in France in 2002, 'Other Cities' at the Latrobe Regional Gallery in 2004, and 'Rome Academici' in 2005 at the Monash University Faculty Gallery and at the British School in Rome. In 2008 he completed a commissioned painting for the MCC at the Melbourne Cricket Ground where it is currently on display. He exhibited in 2012 at the Italian Institute of culture in Melbourne and in 2013 his artwork was surveyed at the Deakin University Art Gallery, Melbourne. In 2014 Alex exhibited in the John Leslie Art Prize at the Gippsland Art Gallery in Sale and when participating in the Bayside Acquisitive Art Prize 2016 was awarded the "People's Choice Award".