UNFOLDING
30 April, 2019

-

18 May, 2019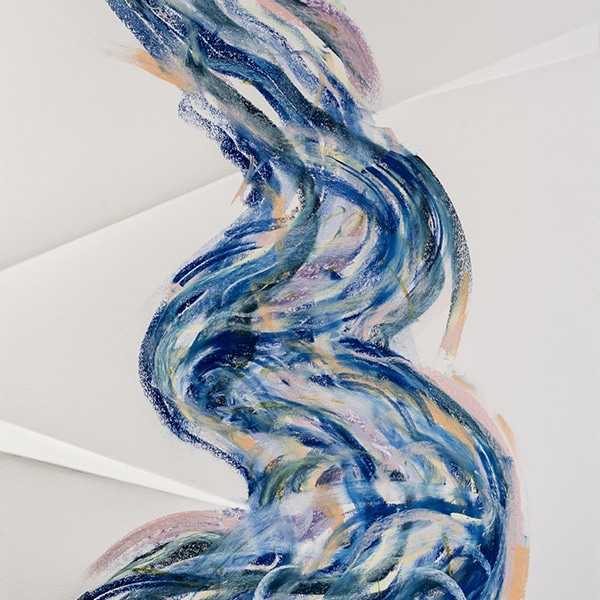 30 April – 18 May 2019

hours:
Tuesday – Friday 11am to 5pm,
Saturday 11am to 3pm
admission: Free
The works reflect an artistic and personal endeavour to reconcile and balance the conflict between spontaneity and rigidity, freedom and discipline.
Michael Pearce returns to fortyfivedownstairs with a new series of drawings.
The Unfolding series introduces elements of dimension, light and shadow into Pearce's pastel drawings through precise folding and embossing of parts of the paper.
Spontaneous fluid pastel lines and markings contrast and balance against the hard straight lines of the folded paper.
The works reflect an artistic and personal endeavour to reconcile and balance the conflict between spontaneity and rigidity, freedom and discipline.
Influenced by Pearce's theatre and dance design practice, light from above casts shadows and creates an ambiguity between which is drawn or folded. The paper folding idea began whilst making the sculptural set model for his design for choreographer Stephen Baynes Constant Variants for The Australian Ballet (seen in Melbourne in 2018 and Sydney April 2019).
From the earlier drawings of pure pastel markings/lines this series includes the body, botanical almost organic shapes (the latter influenced by a trip to Japan). The figures are controlled and influenced by the folded paper forms or fighting against them. The works are all united by a sense of fluid movement.
Michael Pearce is a Melbourne based theatre set and costume designer, visual artist and occasional performer, designing for dance, drama and opera companies in Australia and New Zealand, Europe and Asia.
He began his professional career in 1972 as Resident Designer for the State Theatre Company of South Australia under the directorship of George Ogilvie. Later designing for companies such as Australian Dance Theatre, Sydney Dance Company, the Netherlands Dance Theatre, Melbourne Theatre Company, Dance North, Hong Kong Arts Festival and The New Zealand Ballet. He is a frequent collaborator with Douglas Wright and The Australian Ballet's resident choreographer, Stephen Baynes, and recipient of three Green Room Awards for Best Dance design – Edge of Night 1997, Book of Alleged Dances 1999 and Imaginary Masque 2005 – all for The Australian Ballet.
Michael exhibits his pastel and charcoal works on paper in Australia and Asia. He exhibited his Vietnam-inspired Fluid in Melbourne in 2011 and his Unwrapped Hong Kong series in 2013, part of which was shown in Hong Kong in 2009.
Since 1997 Michael has undertaken 5 extensive cross cultural projects in Vietnam, designing for the Vietnam Opera Ballet Theatre, undertaking two Asialink Residencies, teaching stage design at the Hanoi Academy of Theatre and Cinema, exhibiting and researching an exhibition.
He is a regular guest teacher of design at the Victorian College of the Arts, Melbourne.
In 2007 and 2009 he was Artist in Residence-Design at the Hong Kong Academy of Performing Arts, and in 2005 Visiting Fellow -Design at The West Australian Academy of Performing Arts.
An original creator and performer with the movement performance trio Chrome, he performed at festivals and events throughout Australia, Europe, Canada and the U.S.A. His most recent performance in 2002 was acting in Lois Ellis' production of Art & Eros by Iris Murdoch.
Theatre Heritage Australia in association with Arts Centre Melbourne presents
Michael Pearce in conversation
3pm, Saturday 11 May 2019
The Channel (beside Fatto Restaurant)
Hamer Hall, Arts Centre Melbourne
Entry is FREE! but bookings are required
Box Office 100 St Kilda Rd, Melbourne
Telephone 1300 182 183 (Mon-Sat 9am–8:30pm)
Online www.artscentremelbourne.com.au