Solstice Trio Online
9 August, 2021 : 9:00 am

-

30 September, 2021 : 7:00 pm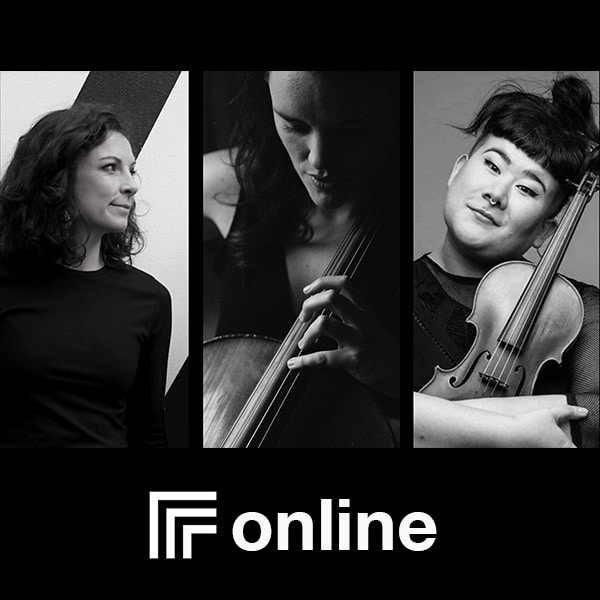 watch at home: from 9 August 2021

duration: 60 minutes
ticket price: $15
This is a recording of a live Zoom broadcast held on 10 March 2021 and was the fourth of five recitals in a series curated by Coady Green at fortyfivedownstairs, which featured some of Melbourne's brightest stars of classical and contemporary performance including Collide, Coady Green & Christopher Smith and the Rathdowne Quartet.

Trouble is a lush and gritty program inspired by a palette of shifting drones, acid house, electronics, Dada and silk scarves. Featuring the music of New York-based composers at the boundaries of contemporary classical, jazz and electronic music, the program includes works by Caroline Shaw, Florent Ghys, Missy Mazzoli, Pascal LeBoeuf and Arvo Pärt.
Featuring guest Kyla Matsuura-Miller on violin, Stephanie Arnold on cello and Georgina Lewis on piano.
Florent Ghys
Étude for 11 Faces
Nadia Boulanger
Modéré from Trois Pièces (cello and piano)
Caroline Shaw
Gustave le Gray (solo piano)
Arvo Pärt
Fratres (violin and piano)
Missy Mazzoli
A Thousand Tongues (cello, electronics and voice)
Pascal Le Boeuf
Obliquely Wrecked 
TICKET PRICES:
Watch at home: $15
NO BOOKING FEE SURCHARGE