…of script and facture… with Two Shanks
11 September, 2018

-

22 September, 2018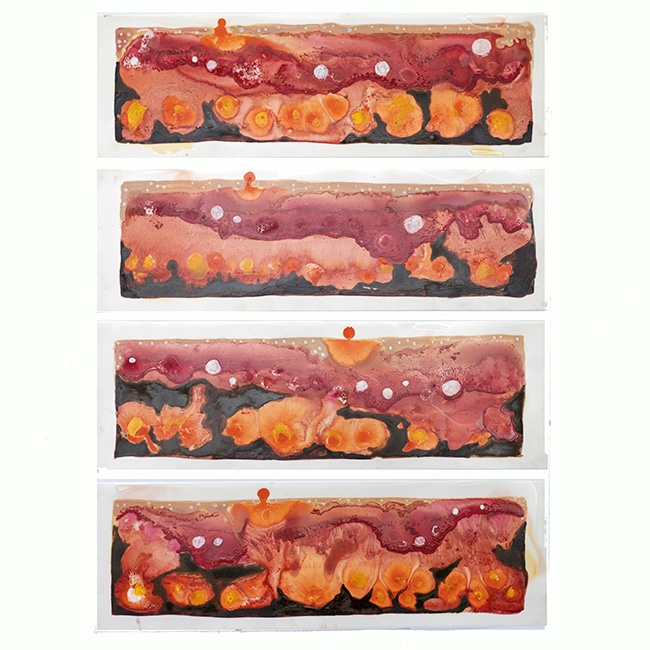 Catherine Bainbridge with Daniel Keene
…of script and facture…
with
Two Shanks
11 – 22 September 2018

hours:
Tuesday – Friday 11am to 5pm,
Saturday 12pm to 4pm
admission: Free
…abstract visual ideas circulating around words…
This is a two-part exhibition of paintings, prints and film.
Two Shanks, a play by Daniel Keene, filmed in memory of Lewis Fiander, who first played the central role in the theatre production of the same name. The short film and images in the piece probe the abstract ideas circulating around the words of the script, their written appearance, and spoken meaning. The sequenced paintings by Catherine Bainbridge convey one set of interpretations, and others from the script acted and filmed. Marco Chiappi plays the role of the late Lewis Fiander. Filming, soundscapes and editing by Philippe Charluet.
A second series of paintings and prints by Catherine Bainbridge result from observations of the natural world and the experiencing of the surrounding space. Sometimes, these are seen as grand overviews from the air, or as close ups of tiny organisms and earth formations under magnification. These observations are taken back to the studio, analysed, worked up and sequenced, forming this organic series of paintings and prints.
Catherine Bainbridge is a contemporary Australian artist and teacher working from studios in Richmond and East Gippsland, Victoria.
In her early working life, Catherine taught for a decade at primary, secondary and tertiary levels, and went on to develop her own teaching practice in and around Melbourne. She has taught all age levels in the wider community, in painting, drawing, printmaking and 2D work. She taught an art philosophy course Drawing and Thinking in the Eastern suburbs. Catherine also ran a Saturday workshop for artists with intellectual disabilities for over twenty years, and an open studio for emerging artists with mental health issues.
Catherine's work in the last decade has been dedicated to the exploration of abstraction in its many forms – and her forms. She has spent time, often on her own, in the bush throughout Australia and overseas in Scandinavia, UK, India, Europe and the USA. From this exposure, tracts of work were prompted by the study of organic and mechanical forms, and the solitude of remote areas. Bringing these observations back to the studio, she investigates and dissects the structure and appearance of botanical, animal and geological forms, the impact of the emotional experience, and reconstructs her responses in her art making.
Catherine is currently teaching in Richmond, Victoria.