I'm not a Robot
2 April, 2019

-

27 April, 2019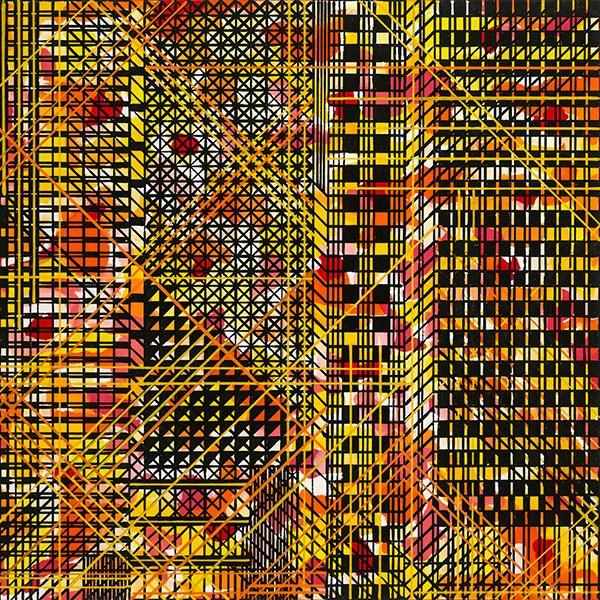 2 – 27 April 2019

hours:
Tuesday – Friday 11am to 5pm,
Saturday 11am to 3pm
easter/ANZAC hours:
Good Friday & Easter Saturday 11am to 3pm
ANZAC Day 11am to 3pm
Friday 26 April 10am to 4pm
admission: Free
"Line, tone, shape, colour and perspective can conspire to invent the unexpected and make us question what we see."
Rather than mechanical and programmed, Fiona Colin's process is a meditative and sensual enjoyment of seeing wet paint absorbed into paper, of seeing an organic growing of colour combinations, lines and shapes. It is an exacting practice, often unplanned within the structure of the grid, one which can also appeal to those who indulge in other slow and pleasurable activities such as weaving, knitting, calligraphy and embroidery. There is evidence, too, of the maker's hand: imperfections and paint textures – yes, she's not a robot!

The inspiration for much of this work comes from the dynamism of the city: the architecture, the play of light, the ever-changing tones, the seemingly endless combinations of angles, shapes and lines. To the artist, this built environment is a celebration of geometry, a symphony of glass, steel, timber and cement.
Colin's work is also informed by numerous other practices she has explored, including screen printing, lino cuts, tapestry weaving, botanical drawing, textile and costume design, and experience from her years as an art teacher.
Colin has attempted to capture the ambiguities that arise not only from our subjective 'reading' of visual images but also from the juxtaposition of so many competing and sometimes confusing elements. Line, tone, shape, colour and perspective can conspire to invent the unexpected and make us question what we see.
Artist's Bio
While studying Art and Design in Bendigo, Fiona Colin was commissioned to produce textile designs and accessories for Australian retailer David Jones. At this time she was also an active member of the Bendigo Community Arts Centre (Fire Station), coordinating the retail space and selling arts and crafts made by local artists, designers and makers.
When Fiona returned to Melbourne, she continued my involvement in art and crafts, increasingly focusing on painting. She has been an Art teacher for the past twenty years.
Fiona has exhibited paintings at the Cambridge Studio Gallery in Collingwood and at Linden Gallery in St Kilda. This is her first exhibition at fortyfivedownstairs.