Colour (Kele)
18 April, 2017

-

29 April, 2017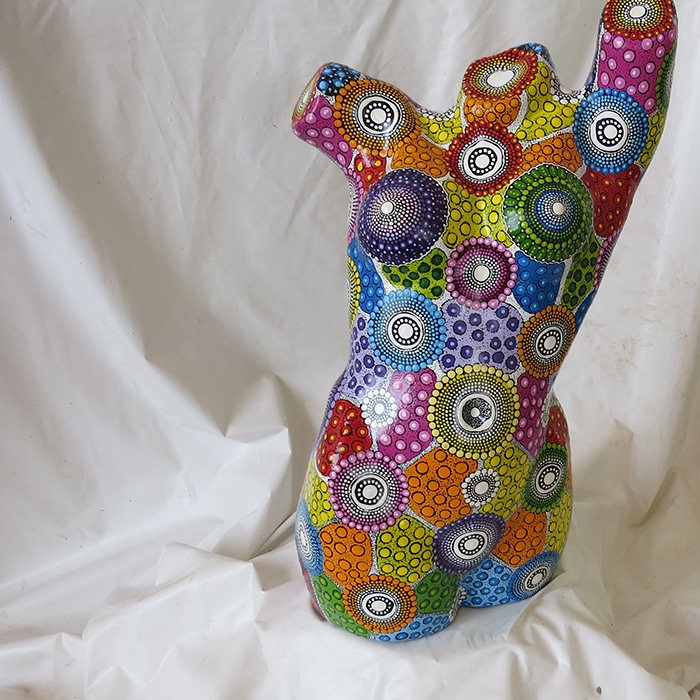 18-29 April 2017

hours:
Tuesday – Friday 11am to 5pm,
Saturday 12pm to 4pm
admission: Free
…features common to ancient rock art and petroglyph designs found throughout the traditional country of Eastern Arrernte…
Various painters have developed this style of painting at Keringke Arts over a twenty-year period. The artist uses pattern, color, shape and design to create paintings that depict their sense of country, culture and self.
The shapes and designs may have features common to ancient rock art and petroglyph designs found throughout the traditional country of Eastern Arrernte. Other designs reflect sand and body painting designs. In its contemporary form these designs on the canvas, ceramics and object may not be attributed to any particular thing, but an expression of the artist.
Eastern Arrernte cultural identity includes a dreaming, a skin name, a place, as well as family name, language, and community. These things are not necessarily reflected in the design or outcome of each painting.
Keringke Arts, Ltyentye Apurte community (Santa Teresa), Northern Territory
Keringke Art Centre began with a nine week fabric-painting course back in 1987. In 1988 the women of Santa Teresa held an exhibition in at Australian Bicentennial Craft Show, the first time an Aborginal group had done so. By 1989, ATSIC funding had allowed the building of a purpose-built Art Centre. It was named after the Dreaming place of Kathleen Wallace, one of the artists at Santa Teresa. Keringke means 'Kangaroo Tracks'. It is Kangaroo Dreaming.
The Centre quickly became an influential model for other art projects in the area, and in 1992 a cultural exchange program saw the group exhibiting in New Zealand. Despite widespread funding cuts to Art Centres during the 90's, Keringke has flourished in recent times and is now a vital component of the area's cultural, social and economic fabric.