BLACKANDBLUE: Coral or Coal
4 December, 2018

-

15 December, 2018
BLACKANDBLUE: Coral or Coal
4 – 15 December 2018

hours:
Tuesday – Friday 11am to 5pm,
Saturday 11am – 3pm
admission: Free
How do we meet our growing energy needs and still act responsibly towards the environment?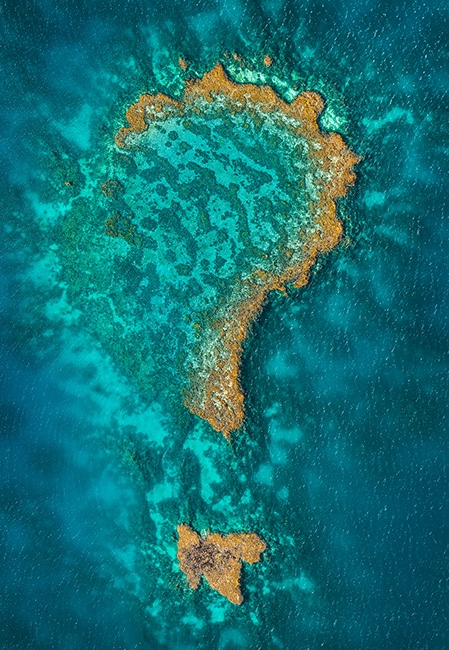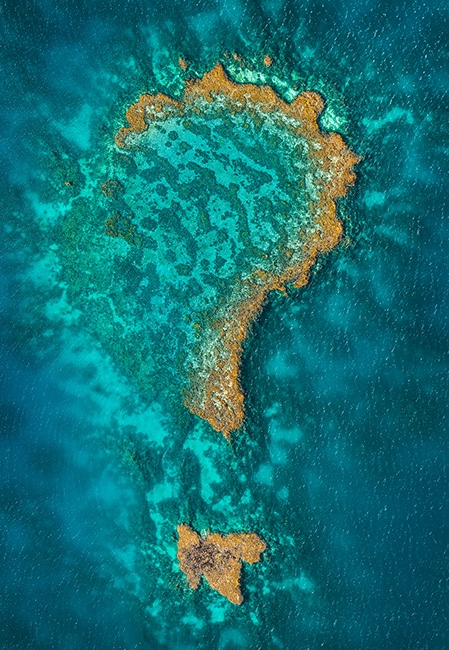 The first chapter 'Red' in the greater RGB project by The Light Collective presented a refreshing interpretation of one of the great natural wonders of the Australian interior Kati-Thanda – Lake Eyre. With the second chapter 'Blue', The Light Collective initially set out to capture the immense beauty and grandeur of the largest living organism on earth and one of the great natural wonders of the world – the Great Barrier Reef. A global icon of pure(st) blue.
However, the reef has suffered catastrophic loss in recent years from recurring bleaching events caused by rising sea temperatures, and after deeper discussion, it seemed almost socially irresponsible not to address this. So The Light Collective present to you – BLACKANDBLUE: Coral or Coal. An artistic and symbolic exploration of the modern relationship between the extraction and consumption of old world resources (fossil fuels) and the well-being of one of our world's great natural ecosystems.
Can they co-exist? In this instance The Light Collective have chosen the Great Barrier Reef and adjacent coal mining industry as symbols for this larger global conversation. The degradation of the reef presents us with one of the most tangible, topical and undeniable illustrations in the world today of the kind of impacts global warming holds for us.
The Light Collective don't profess to be experts on the complex issues involved in global warming and recognise the causal elements are both multileveled and are still being refined and debated, but either way they are passionate about the conservation of wild places and are happy to use their artistic abilities to bring awareness, thought and inspire action towards more sustainable management of our energy needs and the protection of our unique natural ecosystems. The Light Collective's intention is not to point fingers but to create meaningful conversation.
Coral or Coal. How do we meet our growing energy needs and still act responsibly towards the environment?
The Light Collective is a group of Australian based fine art landscape photographers who have come together to inspire each other to push the boundaries of their craft. By combining their considerable resources and abilities they are able to take on much larger and more ambitious ventures such as the RGB Australia Project.
First formed in 2014, the visual artists involved are becoming leaders in their field and are renowned for their progressive, interpretive and artistic approach to image making. As a collective they seek to expand the boundaries of modern landscape photography by embracing the full creative capacity of the digital realm.
A more noble purpose behind their imagery is to inspire and empower a deeper connection and relationship with this country's incredible natural landscapes and awaken a greater sense of ownership and responsibility for their conservation.
The artists that make up the group are Adam Williams, Luke Austin, Ignacio Palacios, Ricardo Da Cunha and Paul Hoelen.