Act of Love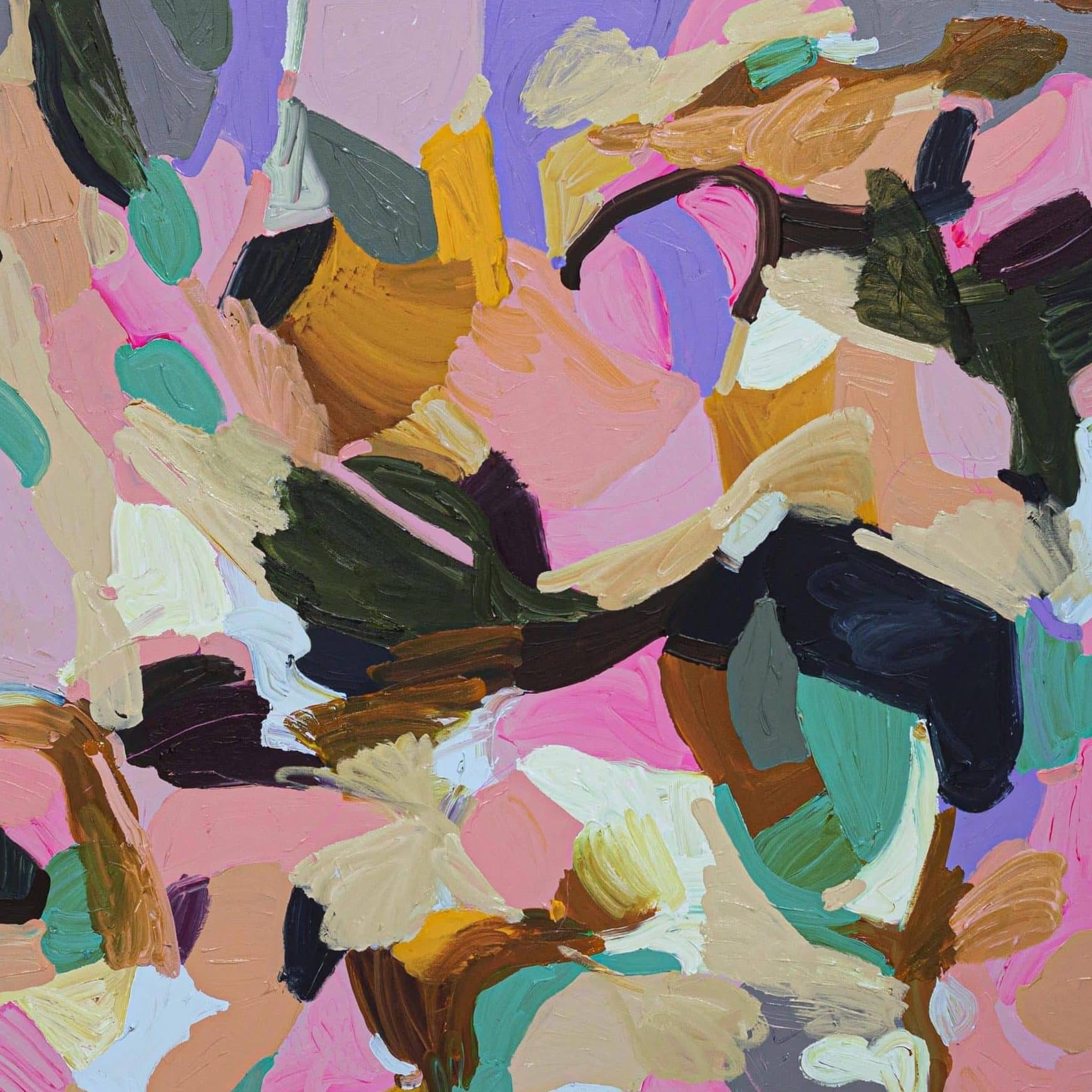 13 June – 24 June 2023

hours:
Tuesday – Friday: 12pm – 7pm
Saturdays: 12pm – 4pm
admission: Free
..for an assured viewer, ready to embrace correlation and chance…
Shayle Flesser // Artist Statement
Again my body of work is forming as an installation rather than an exhibition of solitary works. With this series of oversized paintings – I imagine them to be as one whole artwork that is broken into a series of smaller (though still very large) paintings.
When I plan and execute the work I document and lay them together – so the ideas and direction make sense to me. They then begin to tell a story. The works to me are a part of a larger milieu, that I want the viewer to become ensconced within.
I have always had a strong connection to literature. The titles for the works will often come from books or papers that I am currently reading. Time then spent researching and gathering ideas which help me form a feeling that I'll maintain throughout the creation of the whole body of work. Once I have reached a certain point in my own research process – I have an enduring thought or feeling that stays with me while I paint several works. I paint until the urgency of this thought or feeling subsides, then, I'll return to my reading and research process – and with this the cycle continues.
When the works are finished, I stand the works together and edit them back to a core of paintings that do not deviate from the central feeling I have maintained throughout the painting process.
The work is very much a diary of movement through thought and feeling, and then revisiting of the idea of my purpose. In the past few years, I have concentrated on paring back, ensuring that the work is about the work itself, the simplicity of practicing acts of love and the physicality of being in the studio every day.
Visually I have intended for this body of work is joyful, graphic, strong, confident. Dots, stripes and virulent swirls. I want each painting to look like the palette of the work I had painted right before; for an assured viewer, ready to embrace correlation and chance with shapes and colours, someone ready to revel in a sense of abundance, emotion and love.
Shayle Flesser
Education
2004 Post-Graduate Diploma of Visual Art – Griffith University, Queensland
1996 Diploma of Psychology and Sociology – City College, San Francisco
1992 Bachelor of Visual Art (Painting & Ceramics) University of Southern Queensland, Toowoomba
Individual Exhibitions
2022- Launch – Emma Street Studio Gallery
2021 – Emma Street Studio Gallery
2017- Artworks Upstairs Gallery
2013 – Platform – Jan Manton Gallery
2012 –Doggett Street Studio, Brisbane
2012 – New Skin Tween driver Regional Gallery
2008 Immaculate Heart – blkmrkt project space, Queensland
2008 – blkmrkt projects, Southport
Group Exhibitions:
2016 – Jan Manton Gallery
2014 – Conny Dietzschold Gallery
2014 – Jan Manton Gallery
2013 – Group Show – Jan Manton Gallery
2012 – Los Angeles Affordable Art Fair
2012 – Toronto Affordable art Fair
2011 – Prometheus Visual Art Award – All Saints Anglican School, Merrimac
2014 – Conny Dietzschold Gallery
2014 – Jan Manton Gallery
2013 – Group Show – Jan Manton Gallery
2010 – Jacaranda Acquisitive Drawing Award – Grafton Regional Gallery, Grafton
2010 – Drawings From Where We Are – Horus & Deloris Art Space, Sydney
2009 The Fourth Estate – Lorraine Pilgrim Gallery, Queensland
2009 Innocence – Lorraine Pilgrim Gallery, Queensland
2009 Eat your Heart Out – blkmrkt project space, Queensland
2008 Memento Mori – blkmrkt project space, Queensland (Curated by Wayde Owen)
2007 Taking Sides – blkmrkt project space, Queensland
2007 Put your Love on the Line – blkmrkt project space, Queensland
2004 Works for the Blues – Waterfront Place, Brisbane
2003 Mapping the Journey – Artworks Contemporary Artspace, Queensland
2002 Miniatures – Artworks Contemporary Artspace, Queensland
2002 Works for the Blues – Waterfront Place, Brisbane
2002 The Trinity Lutheran Art Award, Trinity Lutheran College, Queensland (Winner)
2002 Marymount Art Award – Marymount College, Queensland
2002 New Paintings – Artworks Contemporary Artspace, Queensland
1993 Multiple Visions (Graduate show) – University of Southern Queensland, Toowoomba
Awards and Grants and Residencies:
2011 – Prometheus Visual Art Award – All Saints Anglican School, Merrimac
2010 – Jacaranda Aquisitive Drawing Award – Grafton Regional Gallery, Grafton
2009 – Hill End Artists in Residence Program
2008 – Arts Queensland, Regional Arts Development Fund (New Work Grant)
2008 – Arts Queensland, Regional Arts Development Fund (blkmrkt projects)
2007 – Prometheus Visual Art Award – All Saints Anglican School, Merrimac
2006 – Cite Internationale Des Arts – Paris, France (AGNSW Studio)
2008 Arts Queensland, Regional Arts Development Fund (blkmrkt project space)
2002 The Westpac Painting Award, Trinity Lutheran College (Winner)
Collections
Gold Coast City Art Gallery, Queensland
Trinity Lutheran College, Queensland
Private Collections Australia and New Zealand, Singapore, Hong Kong
Bibliography
Gold Coast Bullterin – May 2021
Gina Ciancio – Style Curator 2021
Sam Leach – Catalogue Essay 2012
Clarke, S. 2008. Immaculate Heart, The Courier Mail, Nov 22, 23.
Hales, J. 2004. Drawing from Within, Gold Coast Bulletin, Oct 16.
King, R. 2008. Portrait of an Art lover, Gold Coast Bulletin, Apr 12, 13.
Martin, M St. 2008. A Spiritual Crusade, Gold Coast Bulletin, Nov 22, 23.
Mossip, B. 2002. Shades of Shayle, Gold Coast Bulletin, Aug 14, 15.
Mossip, B. 2004. New Kaleidoscope, Gold Coast Bulletin, Mar 11, 12.
Stojceska, M. 2008. Labour of Love, The Gold Coast Sun, Nov 21