"Meet Me Under the Clocks"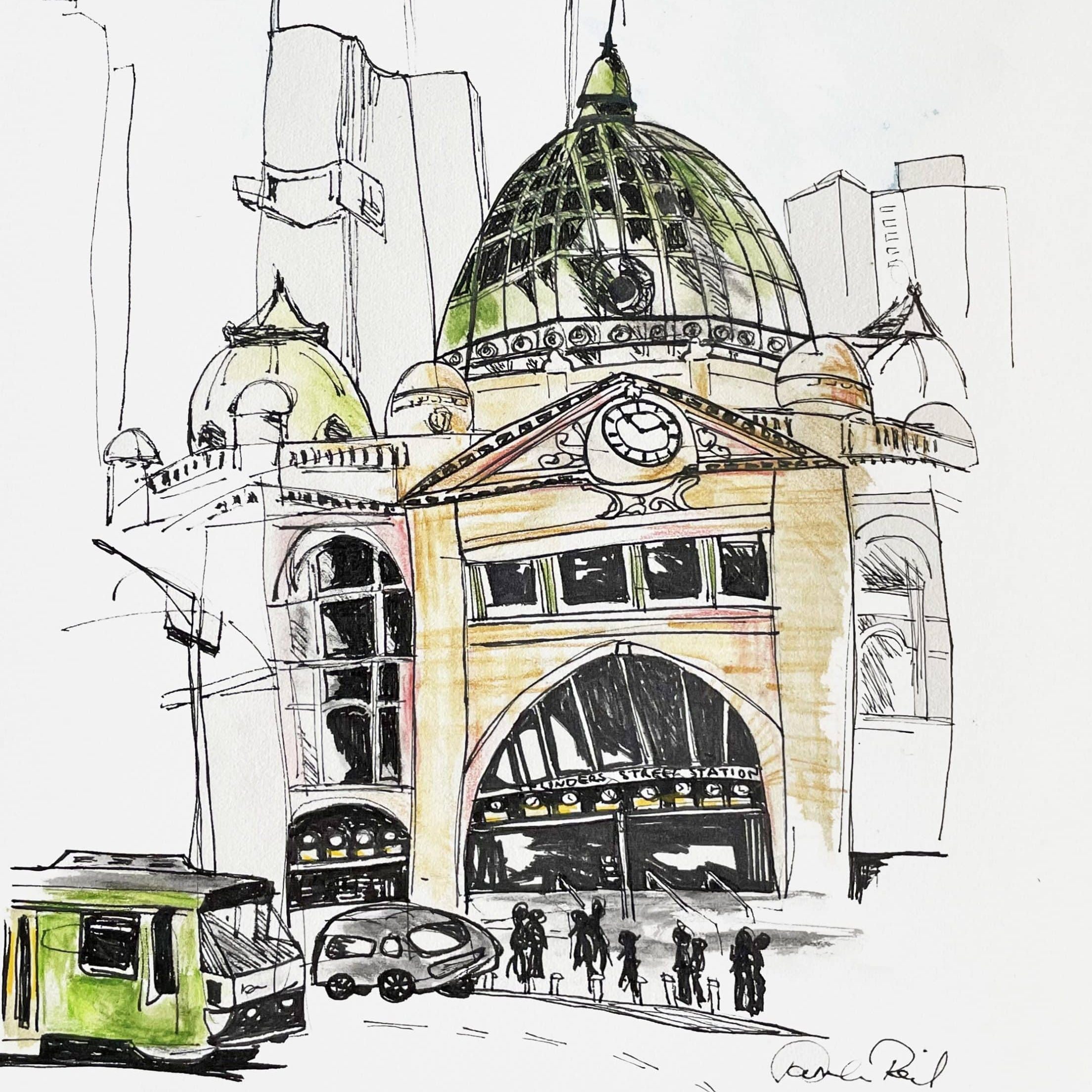 "Meet Me Under the Clocks"
21 March – 1 April 2023

hours:
Tuesday – Friday: 12pm – 7pm
Saturdays: 12pm – 4pm
admission: Free
…these drawings are deliberately loose in outline, abstracted to catch the motion of old-charm architecture that is squeezed or seemingly shrinking, while its surrounding cityscape sways and towers…
The Urban Abstract series.
For many years, I've walked daily around my Port Phillip neighbourhood and surrounds, observing change, not only in social history, but the growing juxtaposition between heritage listed buildings against a backdrop of high-rise constructions. Often a visual "mish mash", but somehow quirky and appealing. Charming buildings are squashed between seemingly looming and swaying architecture. New buildings can bring fresh colour and character to their classic neighbours. In Melbourne CBD also, dear old buildings huddle beneath an ever-rising background of soaring skylines  –  our urban landscape.
Locally, I've lived through times past of some recognisable faces, remembering when The Ritz in Fitzroy St had drag and strip shows.  Nick Cave played at The George (later this building was rejuvenated by restaurant entrepreneur, Donlevy Fitzpatrick). The Prince is Victoria's oldest gay pub where theatre friends partied at Pokies, and The Espy – it always rocked!
Growing up, going into the city to catch-up with friends was always, "Meet me under the clocks" at Flinders St Station. Collins Street was 'the Paris end' and Federation Square was the Gas & Fuel building site.
Wanting to capture this new energy, I sketched with ink pen, working freely, intuitively, enabling movement to depict what I call my Urban Abstract works. Later, I added a little colour with pencil or watercolour.
– Pamela Reid / Artist St
www.pamelareid.biz
Instagram: @pamelareidart
A passion can be sublimated, postponed, pushed down and neglected. But eventually it demands to
be recognised and dealt with. A fervour for art and photography from childhood took back seat as
Pamela pursued a career in the advertising industry (both here and in UK), then for over 25 years in the
Entertainment/Music industries in artist management, concert touring, event project management,
marketing and publicity.
Pamela's love of both performance and visual arts, along with an ability to visualise and comprehend
design and composition, played an essential role in her day job, while working with photographers,
graphic designers, illustrators, film and theatre-makers informed the artist emerging in her personal life.
Much of Pamela's artwork comes from the impact of light and the framework of life drawing, those
creative responses to form, gesture, volume and tonal qualities. She works in a variety of mediums:
pastel, charcoal, Ink & watercolour, acrylic, collage and printmaking techniques. "There's such
individuality in what evokes response. I don't restrict myself to a single medium. Rather, I work with what
feels right and the artworks evolve."
Three of her solo exhibitions, "Pen to Paper" (2017), "Women in Love" (2015/2016) and "Light & Day"
(2009), illustrated her shared passion for literature and art, with all works being married to writings by
favourite authors and classic prose.
With a belief that 'everybody is an artist' and wanting to work with communities, Pamela was successful
in obtaining two local Arts & Culture Grants for projects titled:
The Village Artists – In the tradition of the Village Artist, Pamela sketched and painted with the
neighbourhood children and at the local primary school. The resulting exhibition represented both her
work and the young artists, reflecting their creativity and contemporary village lifestyle within the historic,
architectural backdrop of Middle Park. (The project was supported by the City of Port Phillip Cultural
Development Fund, 2018.)
The Urban-Eyes Project – Pamela invited the people around Stonnington to paint; spontaneous,
unstructured. While they painted, Pamela captured the essence of the community through her camera
lens. From family birthday celebrations in the gardens, to market shoppers, dog walkers and the Principal,
staff and students at Prahran High School, these collaborate outcomes comprised the "Urban-Eyes" art
and photography exhibition staged in both the foyer and mezzanine galleries at Chapel Off Chapel,
Prahran. (Project was supported by a City of Stonnington Arts & Cutlure grant, 2019.)
Pamela also conducts 'Introduction to Life Drawing' workshops for those who lack the confidence or
belief that they can draw or create art. She devised this program using yoga poses and model to
demonstrate the foundations for capturing gesture and human form.
She sees her growth as an artist as continued 'new beginnings'. Pamela has been accepted for an
Artist's residency at Arte Studio Genestrelle in Assisi (Italy) in June 2023.