Unsprung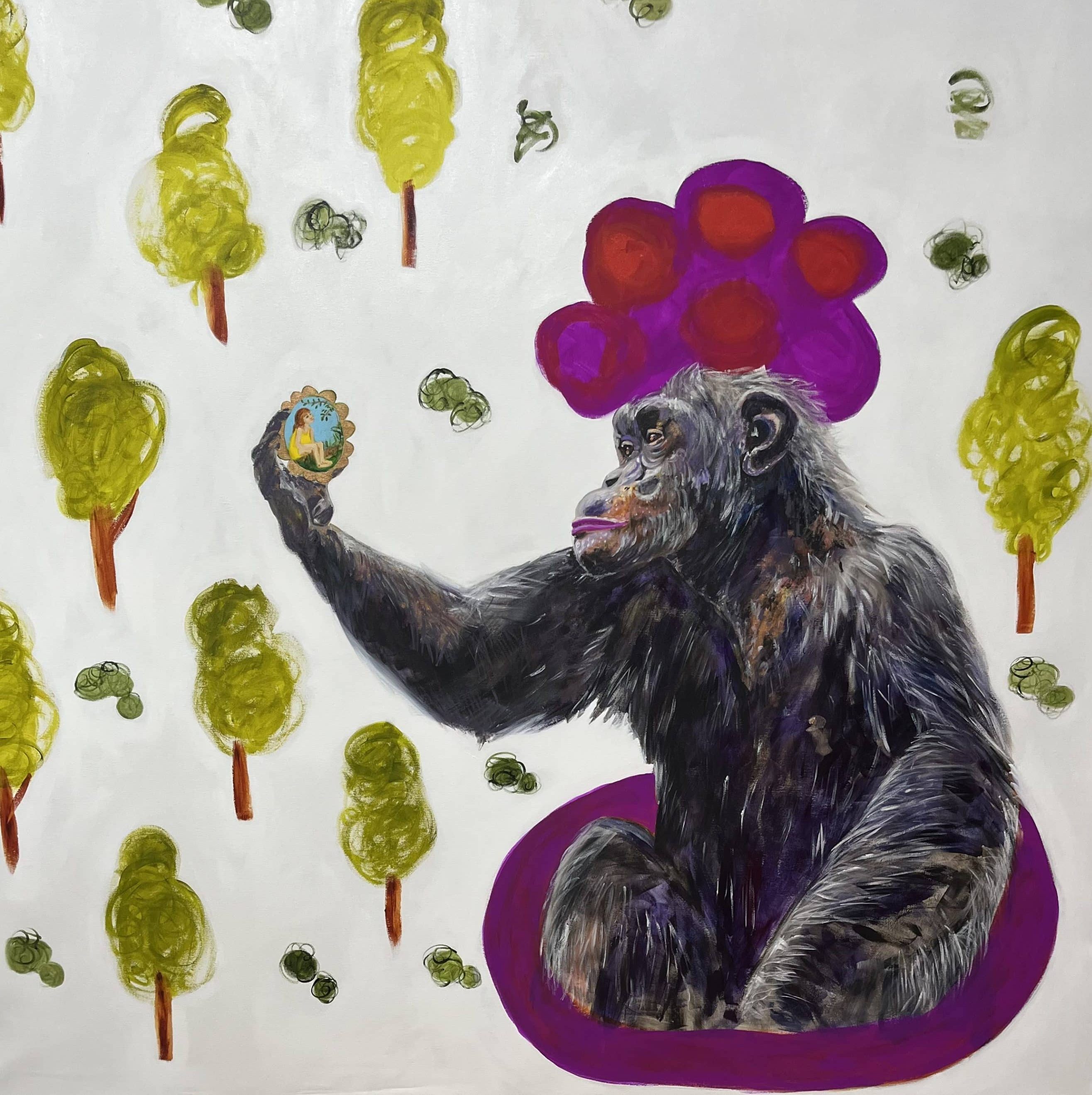 8 August – 2 September 2023

hours:
Tuesday – Friday: 12pm – 7pm
Saturdays: 12pm – 4pm
admission: Free
..Unsprung is a defiant celebration that seeks to offset the grinding force and horrors of conflict…
The Unsprung Catalogue is available to be viewed online here.
The title of this exhibition, Unsprung is a play on 'spring' and its connotations of hope, metaphor, new life, and new beginnings. It is a continuation and exploration of my past artistic themes and metaphors including the cocoon, elephant, and gorilla. My work always concerns the seeking and creation of safe spaces and is motivated by pleas to look after each other and to protect nature in the great unravelling that seems to be the current state of the world.
Since my 2021 solo exhibition, Making Nonsense, the world has continued its crazy upside-down trajectory. At a time when the world should have been coming together to combat climate change, turmoil continued with rampant political upheaval, the effects of Covid 19, human rights violations and in February 2022, the invasion of Ukraine by an unhinged Russian dictator.
My response then became an all-consuming social project, the #sunflowerquiltforukraine, forged in a spirit of solidarity, love, and hope. Designed to be wrapped, draped, or laid out Christo-style. It can inhabit various settings and means different things in each. It is both a cover for sites of atrocities and a symbol of comfort, safety and the capacity of people to come together, replying to the effects of war and destruction with something creative, hand-made and often deeply personal. In July 2022, I flew the quilt to London, and together with Ukrainian refugees, exhibited it all over the UK, including 10 Downing Street, the Albert Hall, Tate Modern, Hyde- and St James Park, on the banks of the Thames and in Sussex farmland. It was used in performances and installations and for recitals. In the Albert Hall our quilt was part of the BBC Proms event, displayed in a giant prayer-circle with the Ukrainian freedom orchestra.
While it has been uplifting, hopeful and inspiring, it has simultaneously been an experience full of sadness, pain, conflict and chaos. Unsprung is a response to, and an escape from the latter, a document underpinned by the unravelling of the world and myself. My daily exposure to the effects of war have, despite my best intentions, bled into my daily life, as a carer for my son with autism, and as a wife with an often-absent partner.
Unsprung is a defiant celebration that seeks to offset the grinding force and horrors of conflict, though I chose spring as a deliberately ambiguous metaphor. Oscillating between recognizable floral motifs, abstraction, simple shapes, and more complex decorative layering, vibrant colour dances in gestural strokes. Tangible threads combine with invisible stories of loneliness, hope lost and found. Paintings are massive or tiny, stretched and unstretched, to suggest something innocent yet 'unsprung'.
By 2023 the #sunflowerquiltforukraine installation was over 250 long. We are continuing to sew today with the aim of doubling our 250m installation.
Artist Statement by Janno McLaughlin and edited by Rose Lang
Photographs by Simon Strong
Graduating with a Masters of Contemporary Art from Victoria College of Arts, Melbourne University in 2018, Janno has spent most of her time prior, living between New York and Buenos Aires, Argentina. Janno's artworks seek to sow hope, bravery, love, optimism, resilience, and whimsy; -anchored by a deliberately ridiculous and unwavering sense of humour. Her approach is unapologetically bold with a preference for blazing colour and mixed media. Janno deploys paint, thread and richly associative metaphors to portray the most vulnerable, fragile and endangered in society. In her ten solo exhibitions, Janno has explored the theme of outsider; the foreigner living in a non-English speaking world; the disenfranchised urban poor; and closer to home and as the mother of a child with autism, the isolation of disability and need for safe spaces.
Opening Night
Thursday 10 August 2023
5pm – 7pm
fortyfivedownstairs
Artist Talk
Saturday 12 August 2023
1pm – 3pm
fortyfivedownstairs