The New Impromptu Quartet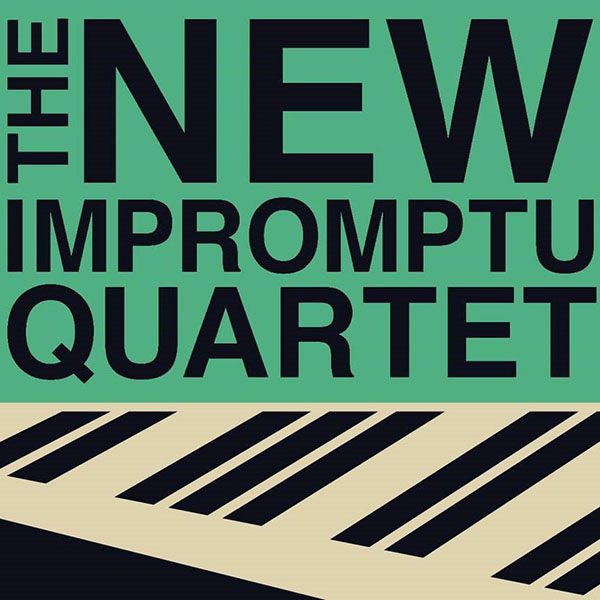 Tuesday 4 February 2020

duration: 90 minutes
time: 7:30pm
ticket price: $30 – $40
bookings: 03 9662 9966
The New Impromptu Quartet comes to fortyfivedownstairs for a special one-off show.
Exploring a world of styles and influences from jazz to Latin, funk, drum 'n' bass and soul with a fresh and open musical approach, the band will be playing a selection of original compositions and arrangements of some favourite standards.
Comprising of pianist Alexander Nettelbeck , guitarist Mikey Chan, bassist Conrad Henderson and drummer Andrew Horneman, the band members have all recorded and toured nationally and internationally extensively in Australia, Canada, USA, Germany, Japan, Ethiopia, Spain, and New Zealand at major festivals including Melbourne International Jazz Festival, Tuscia in Jazz (Italy), WOMADelaide, Mordialloc by the Bay, Toronto Jazz Festival and others. Individually they have recorded on many albums. The quartet will be joined by vocalists Simone Gill and Stavrina Dimitriou.

'Few pianists can combine lyricism with a sense of groove the way that Alexander Nettelbeck does – which partly explains the seemingly effortless way that he can shift from 'straight' jazz to classical to reggae to R'n'B to every genre and sub-genre, really…His latest trio album, Here Today, is a must-have for anyone interested in compact arrangements, percussive piano sound and creative interplay – as well as in his frequent performances with his trio or his 'New Impromptu' Quartet.'  australianjazz.net

A percentage of box office from the concert will be donated to Wildlife Victoria, and there will  be a donation box available on the night.
Alexander Nettelbeck (piano)
Alexander's playing encompasses classical jazz, blues, Latin, and contemporary music in a unique and individual style. He has toured to festivals and clubs in Europe and Asia, traveled extensively in the USA and performed throughout Australia, most recently with Vivian Sessom (USA), trumpet and flugel horn player Lazaro Numa, (Cuba), Pat Powell (Jamaica/Aus), Khari Simmons (USA, Arie), Dave Finnell USA (Thievery Corporation, Severn Records), guitarist and producer Mikey Chan (Roots Manuva (UK), M-Phazes (AUS), Grammy Award winning artist Jill Scott (USA) and bassist Conrad Henderson. His music has featured on Australian radio, television, film and in theatre productions.
Mikey Chan (guitar)
Mikey has recorded and collaborated on albums including the (UK) Mercury Music Prize winning album, Speech Therapy,  Grammy Award-winning producer M-Phazes' ARIA Award winning album, Good Gracious!, Bliss and Eso's Platinum selling album Circus In The Sky, and (US) Hip Hop artist Pharoahe Monch's highly acclaimed album W.A.R – where Mikey's guitar playing features alongside the distinctive vocals of Grammy Award-winning vocalist Jill Scott.
Conrad Henderson (bass)
Conrad is a prolific jazz and world music musician, composer and arranger. He is an accomplished contra bass and electric bass player who has studied with reputable New York jazz performers and in Havana, Cuba, with Orchestra Amerika band leader, Gorge Machado. He has performed extensively in Australia and London, Canada, Turkey and Spain in styles from jazz, Latin, African, Caribbean and other world music forms.
Andrew Horneman (drums)
Andy has a wealth of experience on drum kit and percussion. He has studied abroad and in Australia and has played with big bands, namely the Blamey Street Big Band in Canberra for over five years and in Melbourne with Salvo Big Band on a regular basis over the past three years. Andy has worked with a variety of artists spanning styles such as jazz, pop, folk, funk, jazz, big band, and Latin music. These include Levi McGrath (Australian singer songwriter). The New Impromptu Quartet (Melbourne based jazz band), Mel Searle (Melbourne based jazz vocalist), Oscar Jimenez (ARIA nominated artist and first Latin Australian group to South By Southwest conference, Texas USA), Tim Neal (Australian B3 Hammond organ player), Rachel Delgado (Chilean born singer songwriter), Les Gyori (Melbourne jazz violinist).
Ticket Prices:
Full: $40
Senior: $38
Concession: $35
Group 6+: $35
Full time student: $30
Concessions:
Pensioners/MEAA members
NO BOOKING FEE SURCHARGE
A percentage of box office from the concert will be donated to Wildlife Victoria, and there will  be a donation box available on the night.