he/r
18 January, 2022

-

30 January, 2022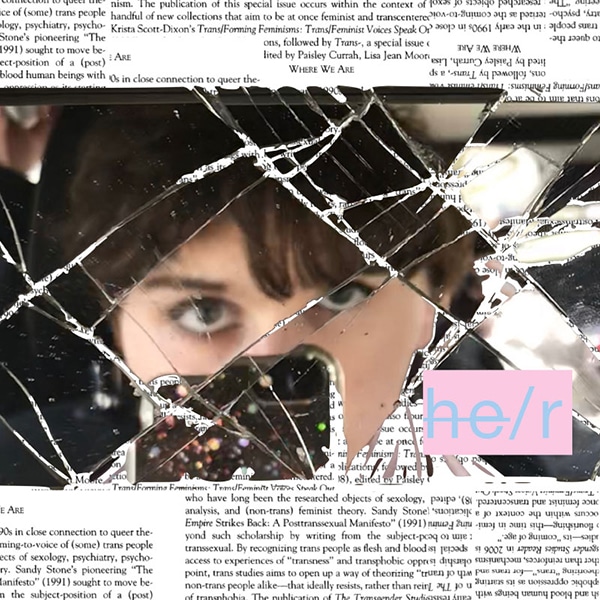 18 – 30 January 2022

previews: Tuesday 18 January &
Wednesday 19 January
opening night: Thursday 20 January
duration: 90 minutes
times:
Tuesday to Saturday 7:30pm
Sunday 5pm
ticket price: $30 – $45
bookings: 03 9662 9966
In accordance with government regulations, proof of full COVID-19 vaccination or valid medical exemption will be required for anyone over the age of 16 to enter fortyfivedownstairs.
he
/
r

(or, remember tomorrow when everything was ok)
Isla's dog is missing. She can hear it down the street. She knows it's hers. But Isla lies about everything, so Claire…isn't so sure.
As adolescents Claire and Isla were fixated on each other. Nothing was left unsaid. But a lot has changed since then. If they were in a different reality Claire and Isla would be madly in love. But they're not. They're here.
he/r is cutting edge. It asks big questions about self, belonging, and the sickening notion that we should all be woke. he/r is the longing that propels us forward, the analogue sense of solidarity that's not yet here…and that's the point.
Fairly Lucid Productions is an independent theatre company with giant ideas who invite their audiences to observe, think and discuss. We aim to push the boundaries with our performances, presenting work that is courageous, compassionate and embraces humility, with a strong focus on new work.
eva rees
eva rees, a newly out and proud trans female, originated the now iconic role of Harry Potter's son, Albus, in the Australian premier of Harry Potter and the Cursed Child. It was this two-year stint contractually binding her to the wrong end of the binary that drove her to become an artist at the forefront of rewriting the narrative.
While undertaking a Bachelor of Arts at the University of Melbourne, double majoring in Islamic studies, English and Theatre Studies, and simultaneously completing a Diploma of Spanish Language, she wrote a new game changing experimental piece of stage art entitled he/r. eva will will make her debut as a playwright in the world premiere of he/r which opens fortyfivedownstairs' 2022 season.
eva has a vast body of previous work on both stage and screen, that she believes would be hard to find unless you were using her dead name.
ruby rees (Director)
ruby is a female-identifying multi-disciplinary artist currently storytelling in Naarm, the land of the Kulin Nation. She undertook intensive acting, playwrighting and directing training at the world-renowned Herbert Berghof Studio in New York City. ruby earned her professional writing and editing degree at RMIT University, Melbourne and was the youngest recipient of the National St Martin's Playwriting Award in 2010 for her first play, Serpents.
She completed a residency at the Manhattan Repertory Theatre Company in 2016. She was commissioned by the company to write and direct an original work for their 10th anniversary season. Upon her return to Australia, ruby directed a series of plays for independent Melbourne companies including Simon Stephens' Punk Rock at fortyfivedownstairs, which saw a sold-out season and rave reviews. While undertaking her MFA at NIDA, ruby expanded her practice to include theatre-making, devising, and the adaptation of new works. ruby is currently in development with her debut feature film, that will be the first to come out of Australia employing only female- identifying cast, crew and creatives.
http://www.rubyrees.com.au/
caitie murphy (Stage Manager)
caitie murphy is a multi-skilled, Naarm-based emerging theatre professional from Monash University, specialising in stage management. In 2021, caitie proudly managed three sold-out productions; Love of the Nightingale (the debut of TheatreWork's 'Glasshouse'), Ballads & Ballgowns (the debut solo show of Melbourne drag favourite, Isis Avis Loren) and Sevenfold Theatre Company's Law & Order: PTV at the Butterfly Club.
Most recently caitie has been stage managing and operating for the Vixen shows at Vau d'vile Drag Cabaret. She is currently working on 2022 seasons of Ballads & Ballgowns, Law & Order: PTV and Fool For Love produced by Emma Louise Pursey.
www.caitiemurphysm.com.au
ben noble (Producer)
ben is an actor, writer, creative producer and teaching artist. A graduate of Royal Conservatoire of Scotland he also trained at the Royal Academy of Dramatic Art (UK), Atlantic Theater Acting School (USA), Brave Studios and 16th Street (Aus).  He performed with Bard in the Botanics (UK), Shakespeare's Globe (UK), Red Stitch, Fairly Lucid Productions, Australian Shakespeare Company and Stage West Canada amongst other independent companies and festivals.
As a writer, ben's play, Member, received 2nd place in the Arch & Bruce Brown Foundation Playwrighting Award in USA and had three plays either win or place in the St Martins Best Short Play Award. As a producer, he has been the co-curator/producer for The Melbourne Fringe Festival at St Martins Youth Arts Centre, associate producer at Melbourne International Comedy Festival and is the founding member and co-creative producer of Fairly Lucid Productions. ben has been a teaching artist at Arts Centre Melbourne and coaches students in performance.
Ticket Prices:
Preview: $30
Full: $45
Concession: $35
Group 8+: $35
Concessions:
Pensioners/Full-time students/MEAA members
NO BOOKING FEE SURCHARGE