Greedy Pixiu
25 May, 2021

-

19 June, 2021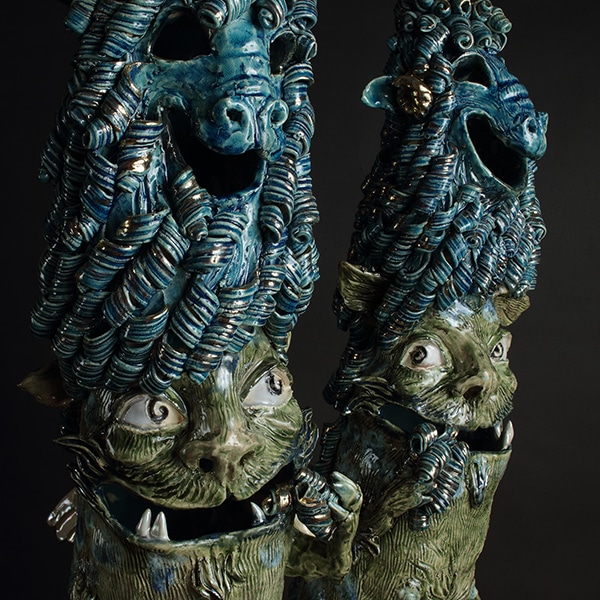 25 May – 19 June 2021

hours:
Tuesday – Friday 11am to 5pm,
Saturday 11am to 3pm
admission: Free
Sculpture that invites prosperity into your life after 2020?
Sculpture that invites prosperity into your life after 2020?
As a response to the global pandemic, the ensuing racial stigma against Asian communities, and the losses that people around the world have seen, these ceramic Pixiu sculptures arrive at the gallery inviting prosperity and protection into viewers lives.
Pixiu is a hybrid creature with an insatiable hunger for gold, jewels and money.  Playful and mischievous, these mythical chimeras are one of the five auspicious animals of traditional Chinese culture.  Pixiu is particularly auspicious for those who have had a bad year.
As 2020 passed its wave of uncertainty through us all, Pixiu came back from Eicholtz's memories of travels through Asia.  Although not as well-known as guardian lions or foo dogs, these playful figures offered new hope and stimulating possibilities.  Each Pixiu pair took on lives of their own as layers of contemporary Australian culture began to contrast with the insatiable consuming that we were suddenly denied.  Pixiu embodied the joyful folly and excess of a bygone prepandemic era… a world we are quickly returning to.
As anthropomorphic money boxes, these lucky Pixiu gobble up good fortune and wealth for you and your home. All these creatures embrace our lucky multicultural country, embrace its folly and look toward a brighter, richer future…
Supported by the City of Melbourne Arts Grants.
William Eicholtz is a contemporary sculptor, taking figurative art from its traditional lineage then reforming and placing it firmly in current artistic dialogue. Evoking classic themes, his sensual sculptures rejoice in metaphor and the physical, with a particular focus on the male nude. Eicholtz acknowledges, in both theme and technique, the figure's place in the classical history of art, then appropriates and translates it into a language infused with a humour and theatricality that embraces modern art.
Selected Group Shows
2016  Common Ground, The Serendipitous Happenstance Project, Kochi Muziris Biennale 2016-2017, India
2015  Deakin Small Sculpture Award
2014  Courage and Light – Collingwood Gallery
2014  In Your Dreams – Counighan Gallery, Moreland
2013  City of Hope – Peter Corrigan Retrospective,Storey Hall, RMIT
2012  Art and Friendship at XYZ gallery, 798 Arts area, Beijing, China
2011  Grass, Mud, Flood – Blackall, Queensland
2010  McClelland Outdoor Sculpture Survey
2009  Shelter; On Kindness, RMIT University for Melbourne Festival 2009
2008  Chaos and Revelery – Neo Baroque – Counighan Gallery
2008  Idiosyncrasies – Johnston Gallery, Perth
2007  McClelland Outdoor Sculpture Survey
2005  Helen Lempriere National Sculpture – Prize Winner
2007  McClelland Outdoor Sculpture Survey
2005  Woollahra Small Sculpture Show
2002  Sculpture by the Sea – Bondi Beach
2000  Becton National Sculpture Award – Gasworks Sculpture Park
Selected Solo Exhibtions
2011  Gratuitous Garland, fortyfive downstairs, Melbourne
2008  A Bucolic Folly – Maunsell Wickes Gallery, Sydney
2008  A Bucolic Folly – MARS Gallery, Melbourne
2007  Bounty – Melbourne Art Rooms, [MARS] Australia
2006  Rhinestone Pastorale – Michael Carr Gallery Sydne
2000  Smyrnios Gallery Australia
1998  Smyrnios Gallery Australia
Commissions
2017  Mullum Mullum, the Owl, City of Maroondah, Victoria
2016  The Late Edition, City of Bayside, Victoria
2014  Courage, City of Yarra
2014  Record Requiem, City of Port Phillip
2012  Lights across the Sea film
2011  Vincent Dowling and John Leahy busts, Thargomindah, Queensland
2010  Solid Gold Miner, Silverlake Resources, Western Australia
2009  "Towners Call" – Edgar Towner V.C. Memorial. Blackall, Queensland
2009  Harry Zachariah Bust, Brighton Grammar School
2006  Gippsland Wall of Recognition, Bronze Figure
2002  Lady of Justice – Victorian County Court, Melbourne, Architects Daryl Jackson and Associates
2000  Army, Navy and Airforce – Three Service Figures, Australian National Korean War Memorial
1999  Bradman Plaque – Sydney Cricket Ground
1998  Farmyard Still Life – Government Pavillion, Royal Melbourne Showgrounds, Architects Edmond Corrigan
1996  Poster Panels – Halftix Booth, City of Melbourne, Bourke Street Mall