Duality
30 January, 2018

-

10 February, 2018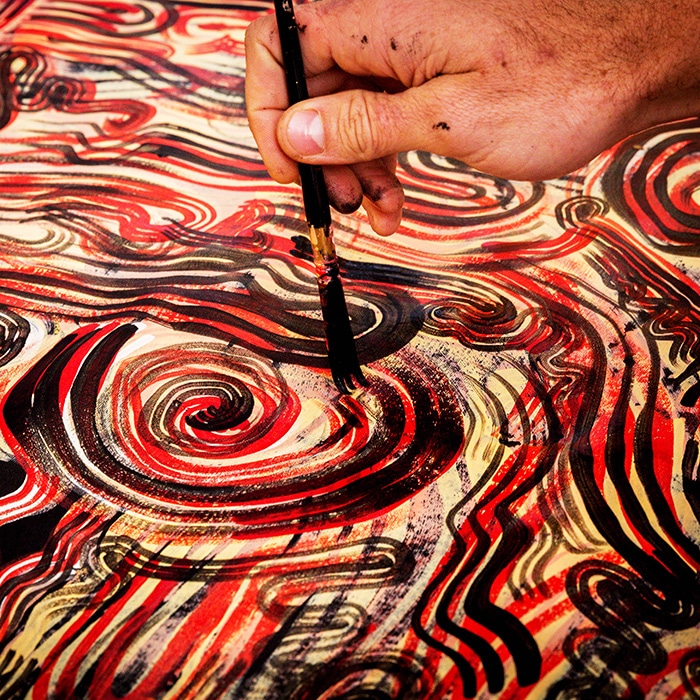 30 January – 10 February 2018

hours:
Tuesday – Friday 11am to 5pm,
Saturday 12pm to 4pm
admission: Free
…an understanding that nothing ever stays the same, all is fluid, moving.
Duality, a series of paintings and sculpture by Bailer, traverses the liminal states of being. The exhibition aims to explore the ever-changing states of the human condition. Through abstraction the viewer is immersed in unlocking their own mutable states of mind and an understanding that nothing ever stays the same, all is fluid, moving.
For Bailer, capturing a likeness of something that already occupies space has never really interested him. Instead, the development of a personal style and the refinement of an enjoyable cathartic process takes precedence. He prefers the process to be apparent in the artwork as for him it is the most important part of his artistic expression.
I have used art (and an array of other activities) as a form of escapism for many years. Graffiti, muralism, sketching, writing, all forms of creativity I have used to escape the hands of time, the act of contemplating my own successes/failures, impending mortality, the inequities of an unjust society. Getting deeply lost in the creative process is like ducking my head below the breakers. The roar of the ocean instantly forgotten in the calm below, surfacing for air briefly only to dive deeper. The noise of self- doubt, expectation and pressure fading into the depths.
– Bailer
Bailer's art practice is variegated: from large scale creations across walls in Australia, New Zealand, Japan, Bali and Europe to more intimate approaches on canvas evoking existential explorations of the mind.  His work is a fusion of biomech, surrealist manifestations of the self, expressed within abstract forms. Bailer's art is currently positioned within these liminal states of the mind.
Painting publicly in Melbourne for nearly 20 years, Bailer's style is instantly recognisable. Within the graffiti culture, his letters are deeply grounded in the traditions of localised  wild style. Initially influenced by the work of renowned graffiti artists such as Puzzle, Trance, Renks and Rush, Bailer's style is constantly moving. Currently his art practice is focused on bringing the graffiti itself to life so it is able to grow, change and break free from the self-imposed boundaries and limitations ingrained after painting traditional graffiti style for so long.
Although still maintaining an influential position within the graffiti culture Bailer moves laterally and fluidly creating paintings that span multiple artistic styles through his studio practice and public art.