Save me
13 February, 2018

-

3 March, 2018
13 February – 3 March 2018

hours:
Tuesday – Friday 11am to 5pm,
Saturday 12pm to 4pm
admission: Free
Within a seamed rock held in my palm, a river cuts through land.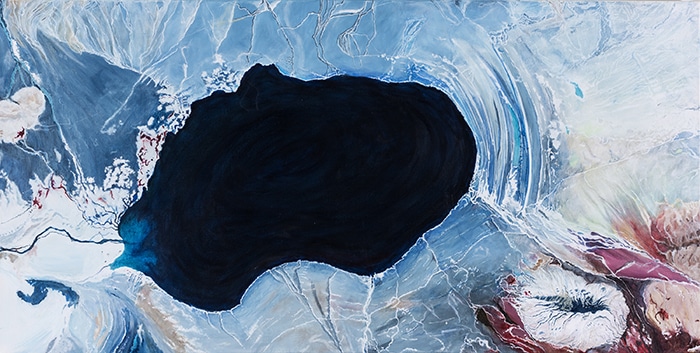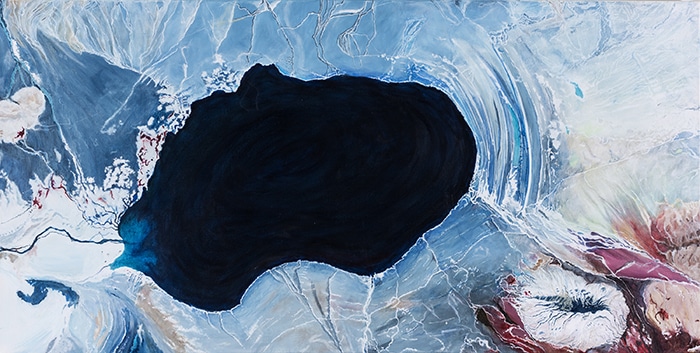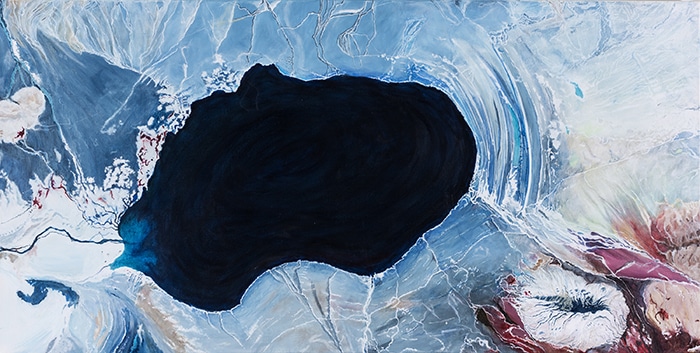 Long drawn to the solace of landscape, Anna Taylor's work explores the paradox of the minutiae of landscape replicated in the aerial view. She documents this exquisite mirroring of detail, pattern and line, finding these echoes reverberate endlessly.
These recent paintings cover vast surface areas of earth as captured from space. Save me is both a celebration of our earth and its incredible beauty, and a call to action to save it.
Anna Taylor has painted landscape for many years.  From 2006 she spent eighteen months travelling to and from Melbourne to Darwin by air, living in the Kakadu area.  The observations made during this time have fed her work ever since.
Anna observed the minutiae of nature, a rock surface, replicated what she saw from above. Cracks in the rocks became rivers or escarpments seen from the air. This morphing of perspective has fascinated her ever since.
She observed the decaying of huge leaves left a webbing, a weaving perhaps, replicating the 'dilly bags' created by the Yolngu people over many thousands of years. This began her vessel making, knitting wire, and receiving tuition in the traditional techniques from the Yolngu women.
The works at fortyfivedownstairs are a culmination of these many years of depicting these elements of nature.  The wire works are no longer vessels, but rivers of bone eerily representing global warming.  Her paintings have expanded to encompass the incredible beauty of the earth's surface and Anna is indebted to NASA and the Japanese ASTER (the Advanced Spaceborne Thermal Emission and Reflection Radiometer) program for the images she has worked with.
Please join us in the gallery for two illuminating talks as part of Anna Taylor's exhibition Save me.
Artist Talk
Saturday 24 February
2pm
'Climate Action'
Dr Amaryll Perlesz (Darebin Climate Action Now)
Saturday 3 March
2pm
No RSVPs required.