After the Archive: Park Life
16 July, 2019

-

10 August, 2019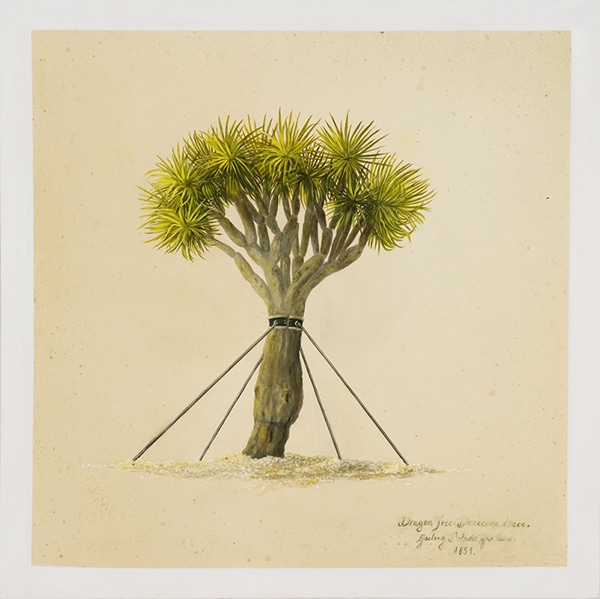 After the Archive: Park Life
16 July – 10 August 2019

hours:
Tuesday – Friday 11am to 5pm,
Saturday 11am to 3pm
admission: Free
…evoke the ecological impacts of colonisation upon the literal and cultural landscapes of the present.
Amanda Johnson's paintings question the fate of the public garden in a context of global warming. How has our physical and cultural encounter with the public garden changed? Has the picturesque garden subject (as landscape vista, folly, or symbol of civic confidence) been relegated to expressions of cultural nostalgia as environmental problems take their toll?
Parks and gardens were quickly established in Australian colonies to celebrate settlement, the rise of botanical scientific collections and the global exchange of exotic plant species and ready cultivars. Colonial documentors of flora and fauna assumed that their subjects would endure in perpetuity; naturalists, artists and voyagers were also enamoured of glimpses of what they perceived to be 'gentlemen's parks', mistakenly believing tracts of land were devoid of Indigenous inhabitants.
Drawing on field trips to urban and regional botanic gardens and national parks, these paintings offer correctives to these views, re-thinking early botanical empire building, or colonisation by seed. They also evoke the ecological impacts of colonisation upon the literal and cultural landscapes of the present.
The paintings on canvas are generally large scale and mimic archival paper documents. They are replete with stains, watermarks and foxing mould copied from deteriorated botanical documentations. As painterly parodies of early colonial botanical documentations, they perhaps suggest the melancholy possibility of last contact.
The exhibition's explorations, taken together, invite questions as to the landscape subjects of the future. What models of 'park life' will be possible going forward?
Amanda Johnson is a painter and writer who has lived in Melbourne and on the Bellarine. Her artwork has been shown in Australia and overseas. Her work has been represented in the 2019 Hadley's Art Prize, the 2018 Bruny Prize and the 2016 Bruny Prize. Paintings have also been shown in the Geelong Contemporary Art Prize (2012) and the Fletcher Jones Prize (2006). She has a Masters in painting from Victorian College of the Arts (1994-5). Since graduating, she has been the recipient of Asialink and Arthur Boyd Bundanon residencies for painting. A previous solo show, Friable:The Lost Garden, was held at Geelong Gallery in late 2015 as part of the gallery's regional artists program. In 2011, she worked with artist Michele Burder to create the exhibition Understorey: Botanic Gardens, Past, Present, Future – from Civic Vision to Climate Change (Geelong Gallery). The exhibition toured to regional Victoria in 2011.
Amanda Johnson's practice is interdisciplinary; she publishes poetry and prose as A. Frances Johnson. Her writing often overlaps postcolonial ecocritical themes found in her art. Her 2007 novel Eugene's Falls (Arcadia) retraced the so-called 'wilderness' journeys of colonial painter Eugene von Guerard across Taungurong country in The Great Divide. Amanda currently works as a Senior Lecturer in Creative Writing in the School of Culture and Communication at the University of Melbourne.
Join us for two artist talks from exhibiting artists Josh Dykgraaf and Amanda Johnson.
fortyfivedownstairs, 45 Flinders Lane, Melbourne
First up, Josh Dykgraaf will speak about his exhibition TERRAFORM, his artistic process, and the literal and artistic exploration that led to the exhibition.
After a short break, Amanda Johnson will be in conversation with art historian Associate Professor Alison Inglis (the University of Melbourne) about her exhibition After the Archive: Park Life.