A Pilgrim's Progress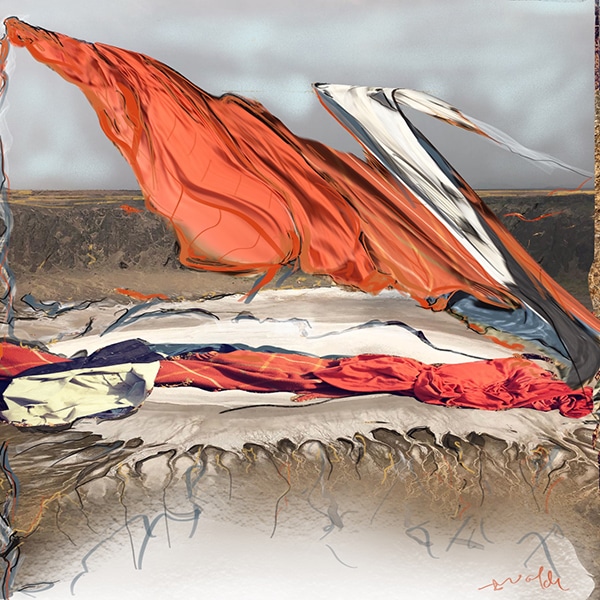 hours:
Tuesday – Friday 11am to 5pm,
Saturday 11am to 3pm
admission: Free
…fascinated with the mysterious existence of abandoned clothes…
We often come across abandoned clothes, lost or discarded by their owners. These material items signal an absence from their former purpose, assuming their own life and existence in the environment where they are left behind. The reasons for their abandonment are vast, but meaningful. They can signify an array of meanings, from loss, absence, relationships, the past and presence. The act of discarding clothes sends a message and their existence affects both the spaces and people that inhabit them.
Abandonment can only be understood when exploring the material existence of a garment and its relationship with the people, objects or places it interacts with. There is a history, a present and a future, one that mysteriously eludes us as we walk by them. On the many travels artist Nel ten Wolde has undertaken in past years, she has become fascinated with the mysterious existence of abandoned clothes she comes across on her journey. Her curiosity for their former life, the reason for their abandonment and the way in which they become immersed in the spaces they come to inherit.
A Pilgrim's Progress, a series of paintings and digital collage works, is Nel's expression of the discarded and lost clothes that cross her path on the pilgrimage trails she has covered throughout Europe, especially Spain. There is a connection between the long and often desolate miles the artist covers on foot, with the deserted clothing strewn across fences, in river beds, along the path or roadside she is travelling.
Originating from the Netherlands, Nel ten Wolde emigrated to Australia in 1985. Since this move, Nel has enjoyed the possibilities of travelling internationally, particularly throughout Europe, seeking inspiration from different countries & cultures. She has been invited multiple times to take part as an artist in residence, working alongside and collaborating with other artists worldwide. Whilst in Melbourne, her work is focused on abstract landscape oil paintings in varied sizes. The greatest source of inspiration for her work, has always been nature, evoking emotions of freedom, beauty & wonder. 
Nel has exhibited extensively in Australia, Europe and the Middle East since the 1980s. She has been a finalist in the Broken Hill Art Prize, Nillumbik Art Prize and Alice Art Prize, and had participated in numerous residencies in Australia and Europe.